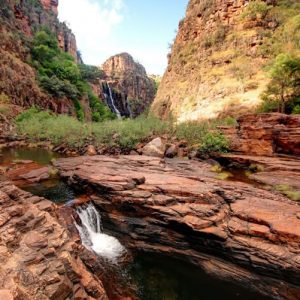 We specialise in a range of different tours, including educational safaris for school groups, adventures for solo and group travellers to join and unique private charters tailored to your group needs. We like to connect with nature, camping under the immense array of stars in most locations. We can also mix it up with some hotel stays.
Our tours include your well-experienced guides, accommodation, most meals, national park fees and a range of adventure packed activities. There are also some optional extras along the way, such as helicopter rides over stunning escarpments. Flights and travel insurance are at your own expense.
School Groups
Overland Oz has been operating in the Northern Territory as a schools educational program in Kakadu, Litchfield and Arnhem Land.
With over 22 years of experience our aim is to create learning outcomes that help to bridge the gap between Aboriginal and non-Aboriginal communities. The sheer rugged beauty of one of the most beautiful places on earth, needs to be seen and understood. Locally owned and operated, we are immensely proud to offer school groups the opportunity to engage in this truly life changing experience.
Tours can be tailor made to the specifications of your curriculum. What we have found best over the years is dividing groups into smaller vehicles to take on particular activities throughout the day, re-joining in the evenings to talk about the outcomes. This allows students to learn from their guide and immerse themselves in the culture of the Top End. Without having the frustration of 50 other students all bombarding an area, the learning outcomes are brilliant. In turn, the beautiful places we visit don't get ruined for others.
Another major part of our endeavour is to provide community service projects for students on Aboriginal lands. A lot of schools choose to fundraise to help with the project which in turn create jobs for community members on their own land, which is extremely important for local Aboriginal people. This type of touring is not for everyone, however to those that are willing to commit, it becomes a life changing challenge.
For enquiries please contact us directly.